3D Therapy Effect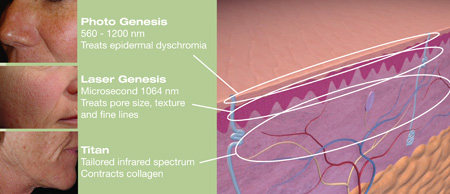 The 3D approach to skin rejuvenation with the use of light technology allows us to take 3 separate non- ablative laser procedures that each target different skin problems at different skin levels, combine them in one treatment and therefore address all skin concerns.
3D Tones, Tightens and Improves Texture
All people present with different needs, from imperfections at the surface, to deeper in the epidermis or at the deep dermal level. Unfortunately, as we grow older, our imperfections turn into multi-layered problems – brown spots, redness, broken capillaries, rosacea and wrinkles, to name a few. The 3D approach results in noticeably improved skin tone, texture and tightness and together, they offer you a flexible, effective skin rejuvenation solution. No one can offer you more!
Tone, Texture, Tightness Photo Genesis
Intelligent LP560, targeting red and brown dyschromia at the skin surface (skin colour changes).
Laser Genesis
Unique micro-second 1064 Nd:YAG, targeting the papillary dermis to improve pore size, texture and wrinkles.
Titan
Tailored infrared light for the sustained heating of the deep dermis for collagen contraction, therefore tighter skin, as collagen that keeps the skin taut lessens with age.

Before / After
Erythema

Poikiloderma

Pore Size Texture

Rosacea

Skin Laxity

Solar Lentigines